Welcome to BeadEnCounter!
Would you like to see your stash organized?
Your work accurately priced?
How about documenting and sharing your art?

BeadEnCounter was designed by an artist for artists, not database experts. Your inventory is easy to manage with our flexible entry, and documenting your work becomes fun, not a chore.

The program is as non-technical as it gets, yet maintains accuracy in pricing. Let it become your memory and your organizing principle, so you can spend more time creating, and less time searching for items or gathering information for documentation.
BEADENCOUNTER GOES FREE!
With 2015 upon us, a major change is in the cards for BeadEnCounter software. It's becoming free-range, you can now get the working version for yes, no money at all!

The reasons for releasing BeadEnCounter into the wild are explained in this
blog post.
Since an upgrade path isn't economically feasible, for as long as current operating systems will support BeadEnCounter, it is free for download.

No support will be offered, either in downloading, installing or using. The FAQ page is still available and the in-software help will give tips on basic use of the program. BeadEnCounter may not be sold on, repackaged or distributed as part of any other free software compilation.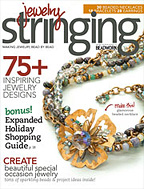 Featured in Stringing Magazine!

BeadEnCounter is featured in the WInter 2011 issue of
Stringing Magazine
!
Not just for beading!

BeadEnCounter works just as well for any craft, or for multimedia art assemblies. Enter beads, paper, wire, found objects, paint, fibers, or anything you use in your craft art! Enter finished work to produce catalogs or invoices, even if components are low or no-cost.

BeadEnCounter promotes organization with minimal work. Components of finished work are entered with a simple click from a list of entered inventory, and the cost is automatically calculated.